Wow, we funded our first free microloan which went to Paquita Arevalo Armas who sells fruit in Peru: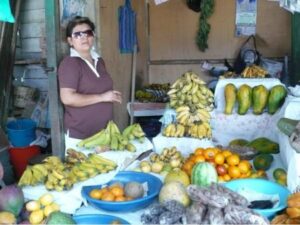 This caught me a bit by surprise as I thought I'd have a little longer to get organized before we'd pass the $25 raised mark (with 90 rss feed sign-ups and 57 comments the first week). As you can see, I still haven't made an avatar for freemicroloan at Kiva, but that will be on my list of things to do this week. You can follow all the microloans that we give out at the FreeMicroloan Kiva Page.
Thank you for this initial surge of support and please continue to comment and tell your friends to sign up for the rss feed so we can give out a lot more of these microloans in the weeks ahead.